Next Auction:
Thursday, 12th December 2013 (commencing 12pm) - Catalogue now online
Auction Venue:
Radisson Blu Portman Hotel, 22 Portman Square, London W1H 7BG
Back to lot list Previous Next Printable Version Download full catalogueAddendumRequest Legal Pack & EPCTel/proxy formNotice to biddersGeneral conditions
Auction Result: £115,000
There is an addendum on this lot - please click here to view details
38 High Street, Leominster,
IN SAME OWNERSHIP FOR OVER 25 YEARS
Occupying a prominent trading position in this busy High
Street, adjacent to
Subway
and amongst such other multiple
traders as
Martins
,
WH Smith
,
Stead & Simpson
,
William
Hill
,
Julian Graves
,
Oxfam
,
Boots
and many more.
Leominster is an attractive and historic market town which
lies approximately 15 miles north of Hereford and 22 miles
A mid terraced property comprising a
Ground Floor Shop
with separate front access to a
Beauty Salon
on the First
Floor. In addition, the property includes a Rear Yard.
VAT is NOT payable in respect of this Lot
TENANCIE
S & ACCOMMODATION
Lease excl. s.24–28 of L & T
operate the April 2011 Break
Lease excl. s.24–28 of L & T
Goodman Derrick LLP – Tel: 020 7404 0606
Ref: M. Collins Esq. – Email: mcollins@gdlaw.co.uk
The Surveyors dealing with this property are
JONATHAN ROSS
and
NICHOLAS BORD
FOR LEGAL DOCUMENTS, PLEASE REFER TO PAGE 4 OF THIS CATALOGUE
The successful Buyer will be liable to pay the Auctioneers an administration
fee of £275 (including VAT) upon exchange of contracts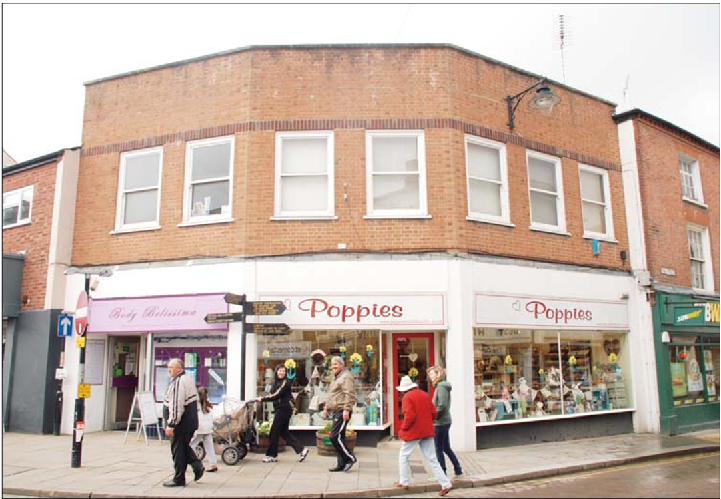 Back to lot list Previous Next Printable Version Download full catalogueAddendumRequest Legal Pack & EPCTel/proxy formNotice to biddersGeneral conditions